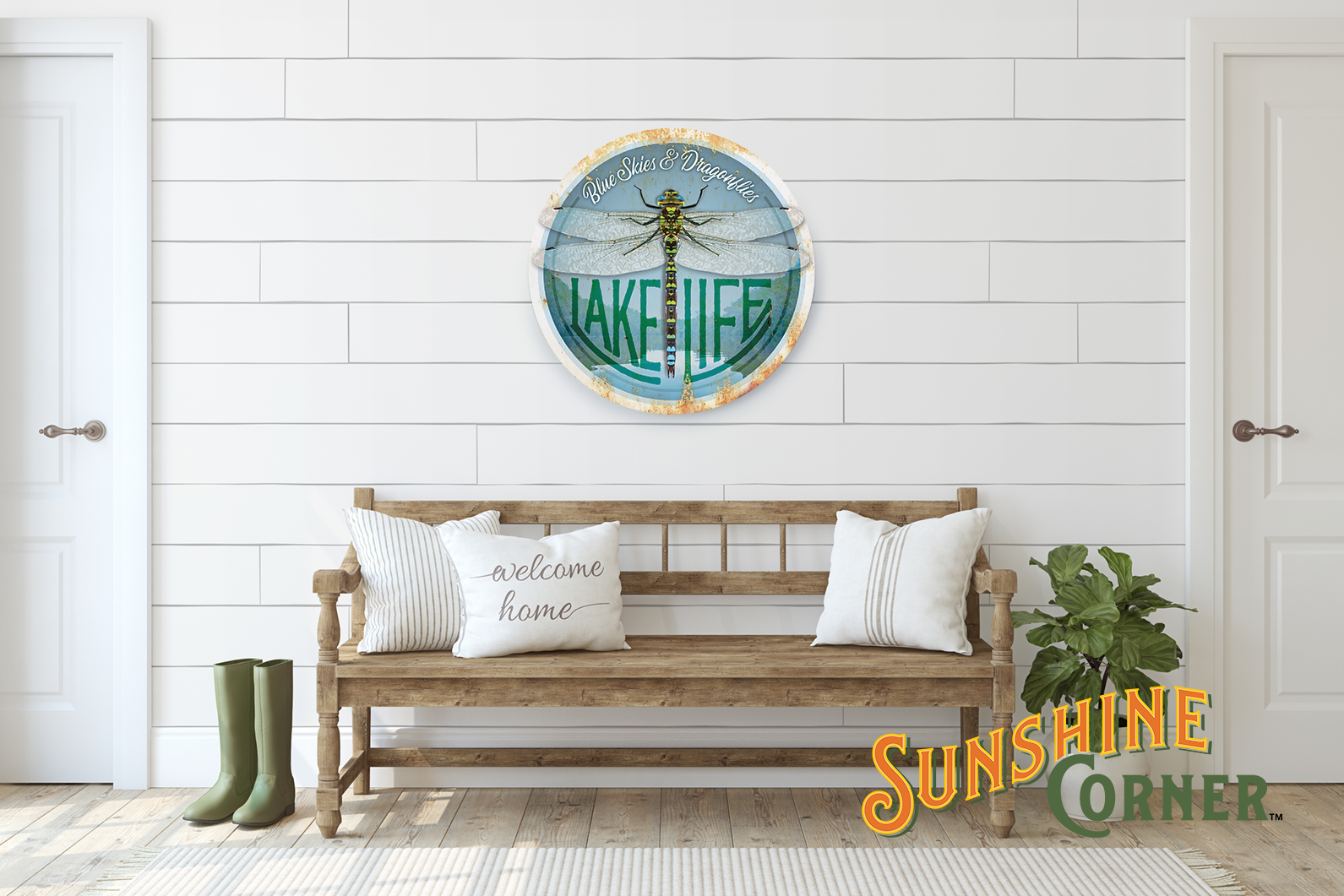 Tips, Tricks, & Ideas For Lake House Decorating - Living Room, Bathroom, Kitchen, & Patio
Tips, Tricks, & Ideas For Lake House Decorating
Living Room, Bathroom, Kitchen, & Patio Lake Decor

When you're ready to dive into decorating your lake home, it's essential to create an atmosphere that resonates with the beauty of the serene surroundings. Each room should uniquely embody the tranquility and charm of lakeside living, from the comfort of the living room to the utility of the kitchen, the peaceful bathrooms, and the picturesque patio. To help you fashion an idyllic lakeside haven, we delve into an array of tips, tricks, and ideas for your lake house decor.
LIVING ROOM
Tips:
The living room in a cozy lake house should reflect your personality. With comfort and warmth as key attributes, bring in your personal elements that narrate the story of your life. You can easily achieve this by accessorizing with family heirlooms, personal mementos, or even books that mean something to you.
Tricks:
Mastering the art of lighting is crucial. By day, harness the flood of natural light. Come evening, consider ambient lights to maintain the serene ambiance. Fairy lights, lanterns, or vintage lamps can magically illuminate your space and complement the overall lake decor.
Ideas:
A textured living room can capture the essence of lake life beautifully. Experiment with a mix of rough woods, soft linens, plush rugs, and rustic metals. Position your furniture to emphasize the lake view and consider including a fireplace adorned with family photos, imparting a personal touch to the space.
KITCHEN
Tips:
Incorporate the rustic charm of open shelving into your lake home kitchen. Not only will it provide functional storage space, but it can also serve as a display for quaint trinkets and cherished cookware. To maintain the natural feel, opt for stone backsplashes or wooden countertops, echoing the outdoor beauty within your kitchen.
Tricks:
Use decor to infuse your kitchen with your personal flair. From vintage floral curtains to a funky chandelier, let your kitchen radiate a style that is uniquely you. For a cohesive look, mirror the colors of the surrounding landscape. Soft greens, deep blues, and crisp whites can effortlessly connect your kitchen to its natural setting.
Ideas:
Your kitchen should be more than just a cooking space; it should tell a story. Allow the soothing whispers of the lake and the comfort of your home to infuse your kitchen with an identity, making it a memorable culinary hub.
BATHROOMS
Tips:
When it comes to your lake home bathrooms, consider creating a color palette inspired by the tranquility of the water and sky. Use a blend of soothing blues, crisp whites, and sandy hues to establish an environment that embodies lakeside bliss.
Tricks:
Maintaining a balance between functionality and aesthetics is vital. Clever storage solutions like woven baskets or wooden crates can serve as decor, keeping your bathroom tidy while enhancing its overall style.
Ideas:
Integrating natural textures can amplify the rustic appeal of your bathroom. A stone sink or pebble-encrusted shower floor not only adds natural beauty but also creates a sensory experience that links you to the outdoors.
PATIO
Tips:
Prioritize comfort when selecting outdoor furniture for your lake home porch. A cozy seating arrangement, plush with cushions and warm throws, can create the perfect lounging area. Enhance the natural appeal with hanging plants, potted flowers, or a lush climbing vine.
Tricks:
Embrace the rustic vibe on your patio with the use of reclaimed wood for benches or tables, or weathered-looking rocking chairs that exude a sense of timelessness and charm.
Ideas:
Detailing makes all the difference. Accentuate your patio with a vintage birdhouse, a nautical-themed rug, or a charming welcome sign, creating a warm, inviting space for everyone.
Decorating your lake home should be a journey of creativity and joy. Let every room reflect your personality and love for the lake. By following these tips, tricks, and ideas, you can transform your lake house into a cozy sanctuary that radiates charm and tranquility, making it the perfect backdrop for creating cherished memories.